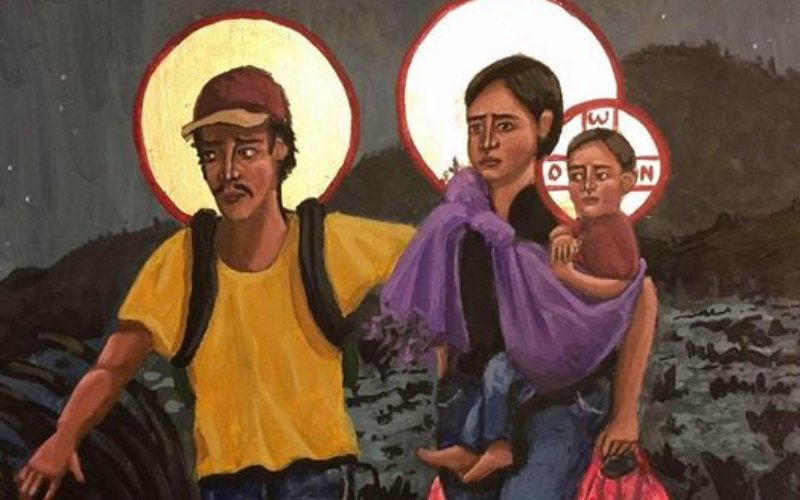 "The angel said to her, 'Do not be afraid, Mary, for you have found favor with God.'" (Luke 1:31)
Pregnancy is a scary time even in the modern world and under the best of circumstances. Imagine what it must have been like for Mary. For Mary there would be no epidural. There would be no emergency C-section if complications occurred. There would be no doctor, no nurses, no hospital bed. After delivery there would still be no doctor, no medical supplies, no lactation consultant, no What to Expect When You're Expecting. On top of all of this, remember that Mary was probably a 14 year old kid who was a virgin and had quite possibly never traveled more than a few miles from her home. When they arrive in Bethlehem (a journey on which 9-month-pregnant Mary rode bareback on a donkey) there is no room for them. Scholars debate whether the original Greek words of the gospels indicate that Jesus was born in a stable, a cave, or a family living room – regardless of which is correct, this was not going to be the delivery that Mary was expecting.
On a broader scale, Mary was a Jew living in the first century. This meant that she was a member of a people group who had been colonized by and were currently occupied by a world superpower (Rome). Herod, the "king" in Jerusalem, was not the rightful king – not even a real Jew – but had curried favor with the Roman powers-that-be. When he hears that a child has been born who is called "King of the Jews" (Matt. 2:1-2) he is afraid, and he later orders that every child in Bethlehem who is two years old or younger is to be killed (Matt. 2:16). Can you imagine being a parent of a one-year-old in Bethlehem when Herod gave this horrific order? Can you imagine being Mary? Mary was forced to flee to Egypt, another world superpower, to avoid the violence.

We hear these stories every year, and so it's hard for us to read this story with fresh eyes. (I will never be able to read Luke 2 with any internal voice other than that of Linus from Peanuts). Let me frame this story in a modern context for us: Mary is a pregnant fourteen-year-old girl from Honduras seeking asylum in the United States to avoid violence in her hometown. When she finally arrives, there will likely be "no room" for her or her newborn baby. In all likelihood her family has disowned her, and so she and her baby will depend fully on the kindness of strangers and the grace of God along the way in her journey. There is no higher justice to turn to in her own land – under the best of circumstances she will be ignored, and under the worst she will be further abused.

It is into this context of fear, turmoil, anxiety, and pain that "The angel said to her, 'Do not be afraid, Mary, for you have found favor with God'" (Luke 1:30). "Glory to God in the highest and on earth peace among those whom he favors!" (Luke 2:14) Peace even to Mary, the new-mom refugee fleeing from violence in her unstable homeland, and seeking asylum in a foreign nation.

In what situation in your life do you need to hear this Advent message: "Do not be afraid"? The message of "peace on earth" as the Advent hymn declares. Our world is full of violence and pain and hatred and injustice and uncertainty and loss and fear. But the King has come. And the King is coming. Even when peace seems impossible, the Advent message reminds us that it has already begun.
"The wrong shall fail, the right prevail
With peace on earth, good will to men."